Home
For advice and quotes contact us on 0800 622 6736 or for mobile users on 0333 577 6736.  
PLEASE NOTE THAT THE LANDLINE NUMBER 01732 460421 HAS BEEN DISCONTINUED AND THE FREEPHONE NUMBERS ABOVE SHOULD BE USED INSTEAD.
Digital Data provide a wide range of digital services including CD/DVD printing, CD/DVD duplication, CD/DVD Pressing & fulfillment.   We also have longstanding expertise in the preparation of fully searchable PDFs from paper and electronic source material as well as the conversion of tapes to DVD video format.
CD & DVD Duplication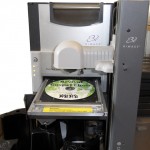 Rimage Everest 600 thermal printers produce a photo quality print to the disk surface that is glossy and scratchproof.   We have no minimum quantity requirement, so only order what you require.   For quantities typically in excess of 1,000 units we have a longstanding arrangement with an ISO quality approved manufacturing facility to produce high quality disks at very competitive costs.
PDF We can scan your paper to PDF format to include searchable text.  The completed job can be placed on a CD that runs the Acrobat Reader without the need for it to be installed.
VHS to DVD  We convert a variety of formats – not just VHS – to produce a high quality DVD video at very competitive costs.
Mail Fulfillment  We hold your music and data files and on demand we print and duplicate disks, any paper required and send to your customer in plain packaging the same day.