VHS to DVD
VHS to DVD – why not convert your old VHS tapes or DV tapes to digital format?   Send us your tape and we will convert it to digital format using professional quality encoders to ensure that frames are not dropped and picture quality is maintained.  We convert VHS, S-VHS, VHS-C, mini DV and any digital media formats to high quality DVD-video format disks that work on your PC, Mac or the TV.  If you are not sure what format you have give us a ring to discuss.
We can provide a simple conversion service to do no more than convert the tape to a video DVD; we can also edit the tape to delete unwanted bits (all those exciting shots of grass close up for example), enhance colour and sharpness.  Menus can be created to menu to allow you to jump to selected scenes or at fixed intervals.
As standard we provide 2 copies of the DVD in DVD-video format that plays on computers and TVs, complete with a picture and text of your choice printed on the disk, packed in a DVD case with a colour printed sleeve.  Additional copies can be provided on demand.
Recent conversions include holiday trips to Disney, bungee jumping, ruby wedding, school plays, 70th birthday celebration, even oil exploration in the Artic.
Cost will vary a bit with the length of the tape to be converted, as an example a 2 hour tape with 2 DVDs printed and duplicated and packed in a DVD case with a colour printed wrap will cost around £12.
As well as a PAL format DVD video for use in the UK, if you have family in the USA we can produce an NTSC version of the video that will work just fine over there.
Please note that we do not convert commercially produced tapes e.g. a Disney film to DVD format, this contravenes copyright rules.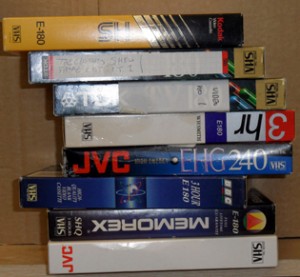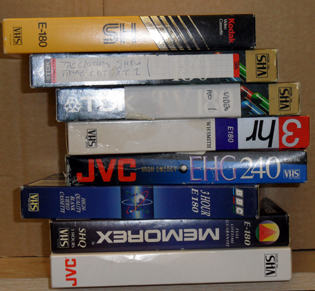 Would you prefer a pile of unplayable tapes or an easy to use DVD with menus?